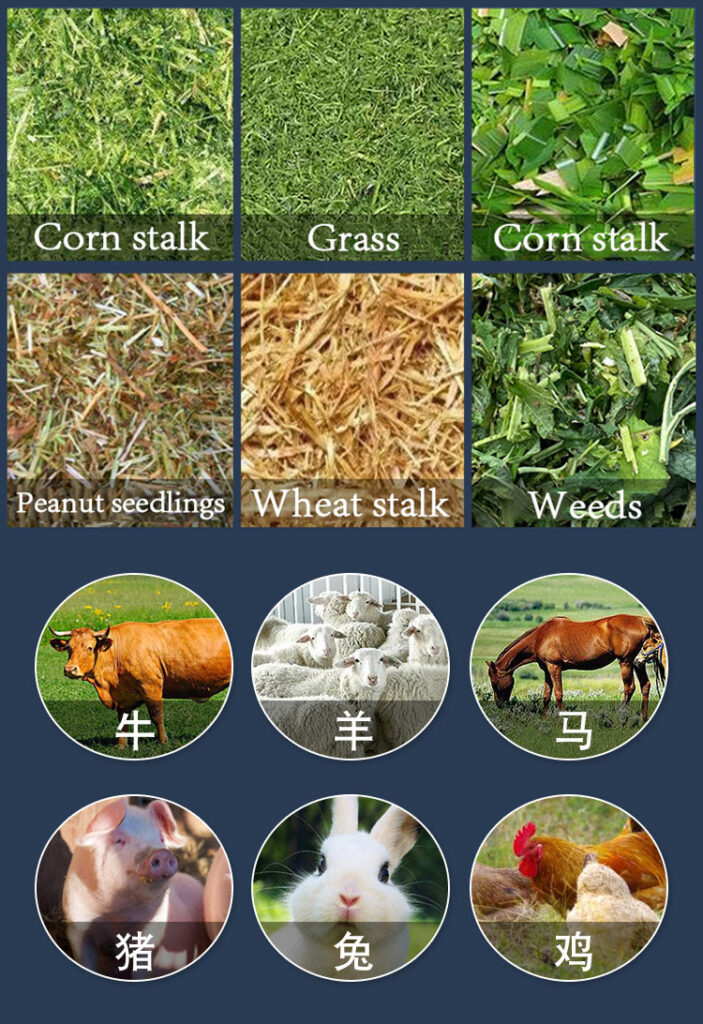 Introduction
The new Hans Chaff Cutter Machine 7GE is easy to operate and has an excellent safety performance. Dry and wet dual-use, it can process all kinds of forage grass and crop straw. Designed specifically for a large number of farmers, this machine is the ideal equipment for large, medium, and small farms.
The Hans Chaff Cutter Machine 7GE is mainly used for chopping various dry and wet crop straws and pastures, such as corn straw and rice straw. Used for raising cattle, sheep, horses, deer and other animals, suitable for pastures and farmers.
The products all adopt automatic feeding device. The main frame, bracket and motor frame are made of a combination of cast iron and steel plate, which not only enhances the stability during work, but also reduces noise.
The grass cutting part adopts two groups, three groups, four groups, and six groups of plane oblique knives. The gear transmission improves flexibility and service life, reduces the resistance to grass entry, and increases the amount of grass feed, which reduces the noise and increases Productivity.
This chaff cutter is mainly used for cutting micro-green, dried corn stalks, rice straw and other forage crops, straw and so on, the family farmed cattle, sheep, horses, deer and other livestock, the ideal helper
This machine realizes the reuse of straw crops and effectively avoids the pollution of straw burning on the global environment. It is an environmental protection machine for animal husbandry that is vigorously promoted.
Chaff cutters are motor-and Gasoline 7.5hp engine driven, and these Chaff cutter benefits are that they are energy-efficient, and it saves time and human resources for cutting a large amount of chaff.
The cutting blade is hardened to withstand pressure, and it is made wear resistant.
The engine used to drive the machine is single phased with 3000 – 4000 RPM (depending on model), enabling the equipment to work effectively and give incredible yield.
Hans Chaff Cutter Machine 7GE Chaff cutter is a multipurpose machine. Apart from cutting chaffs, it can also provide a cutting solution to many things like grub, fodder, straw, etc.
It compact structure, small size, light weight; with steel structure, safe, reliable, single-phase power, easy to use, even long grass, and other characteristics suitable for green and dry.
This machine is used to cut green (dry) corn stalks, straw and other crop stalks and pastures. The working principle of the Machine is very simple: the motor or engine is used as the supporting power.
The power is transmitted to the main shaft, and the gear at the other end of the main shaft transmits the speed-adjusted power to the grass press through the gear box, universal joint, etc. Hold and feed it into the Chaff cutter cutting mechanism at a certain speed. After being cut by a high-speed rotating cutter, it is thrown out of the machine through the grass outlet.
This crusher is beautiful in appearance, adopts all-steel body, thickened steel, and the coating
adopts baking paint process, which has bright colors, good durability, corrosion resistance and durability.
See our video on YouTube
PRODUCT DETAILS
Model: HX-7GE CHAFF CUTTER
Material: STEEL
Capacity: 700kg\Hour
Applicable objects: Ducks, rabbits, cattle, pigs, sheep, horses, and other livestock
Power Source: Electrical rechargeable battery and Manual
Color: Blue, Green & red
Product Size: 550*450*600mm
Product Weight: 55kg without motor or engine
The production efficiency:

Grasses                 moisture content          production efficiency
Green corn                         65%                              1.0t/h
Straw dry corn                   17%                               0.5t/h
Straw green                       17%                               1.0t/h
Dry straw                           17%                               0.4t/h
Dry wheat straw                17%                               0.3t/h

Packing:1pc
HERE I'M
700kg\Hour Capacity
Single Man Operation
Reasonable structure
Zero Maintenance
Easy to use
Strong adaptability
The amount of grass eaten, and grass produced is increased
3000 – 4000 RPM
ABOUT ME
Made of steel body, Steel frame, small size, light weight, easy to move.
Designed with safety appliances, prohibit browsing incidents, safety and reliable eliminate eating knives accident, the whole machine safe and reliable.
Adopted advanced feeding structure with feeding roller, feeding capacity, and feeding automatically and smoothly, high productivity.
The blade is made of good quality stainless steel, designed by specially processing.
Wear-resistant high strongly, high strong bolt, safe and reliable
See our video on YouTube